Oh my gah, look at that!
That's why I named this post, Look At That.  I cannot tell you how many times over my thirty-something years I have been shopping and those are the words that spill out of mine or a friend's mouth as we window shop.  Those are the words that are saved up only for two finds:  The ones that make you wonder who in their right mind would don the shirt, dress, pants, whole get-up that is on display or the outfits you see that make you decide a price tag means nothing and by for the love of Visa you are leaving with that shirt, dress, purse, or whole get-up.
This is a little bit of my Look at that! (in a good way) list.
Old Navy…
This is a moto sueded knit jacket.  I'm slightly in love with the color and the classic style.  I am not one for trends so something that can be good to go from year to year is what is in my wheel house when I buy new clothes for a season.  This cute jacket is at Old Navy and you can find it here.
CS Gem Online Boutique
This caught my eye and had me swooning a bit.  I love the lace top and military-esq jacket.  I would go so far to say that for us in the South this is a great fall look because our days can be hot while our evenings cool on off pretty well.  The shoes and bag – please!
I cannot tell you why I like this.  I also cannot say I'm 100% invested but something is calling me in this outfit.  It's comfy with the cardigan and stripes but it's also a little ready to go out to the movies or for coffee with the bestie.  This little ensemble I located over on the ole Pinterest.  (P.S. I found that sweater last week in a boutique.  I nearly bought it but decided to ponder upon it.  Thoughts?)
What is wrong that I want something that has shoulder pads in it? I still remember the original shoulder pads from the 80's.  GEEEEEE-ZUSSSSSS!  And here I am kinda sorta loving LC's open front blazer…heaven help me.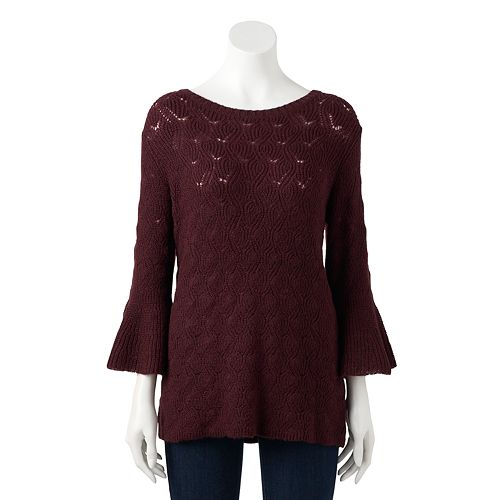 Speaking of LC…I'm kinda like infatuated with all her clothing.  Give me a Kohl's gift card and watch me buy her stuff.  I also love how each month she builds a little on the line from the previous month.  What do I mean?  The patterns, colors, etc all compliment one another.  You can really build a classic wardrobe with her line and also throw in a few of her trend pieces to be up to date.  I do not care for this top but it's cute if you're not me.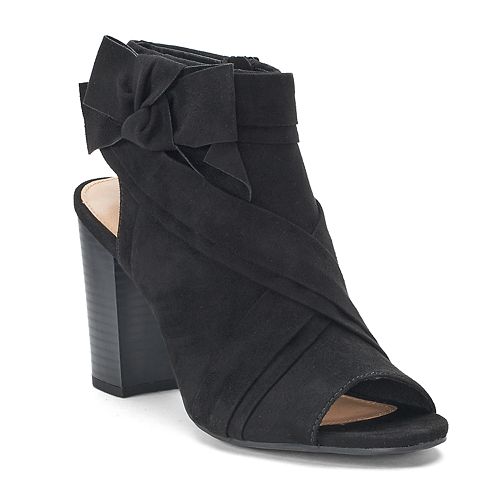 See she creates the cutest booties.  Unfortunately, I cannot wear these.  All the LC stuff can be found here.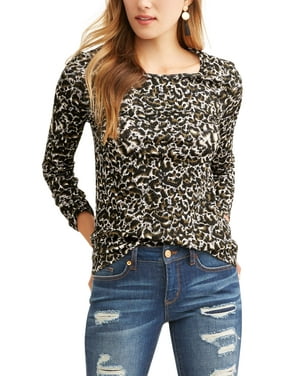 If I were an animal I would choose to be a leopard just because i like their coat.  And I love the destressed jeans paired with this top.  I also like the fact this is from freaking Walmart.
But let's just be honest…what will I be wearing this fall?
Yes, Reese knows.
Now let's talk hair…
A couple weeks ago I did something I haven't done in ages.  I box dyed my hair.  Look, it was not in malice.  I had to tone down my blonde and get a hold of my roots.  I love my hair girl but we had a hurricane coming and I just could not fathom a storm and bad hair.
So I did a boxed dye and it didn't take.  Like it took for a week and then it was so gone. I need to schedule an appointment – I get that.
But as I was sitting at my computer typing up this week's Healthy Girl I had this terrible thought –
I should cut my hair off.
Then I started looking at ideas…
It's safe to say I have the same general idea – probably an angled layered lob.  I just cannot cut it all off, guys.  My hair grows super fast but dang it I love it.  I just don't love it enough to keep the same ole style going.
It's ok ponytail, you're in the clear.
(See Reese photo above.)
Every autumn I upgrade my make up.  I get new foundation, blush, mascara, and skincare.  There is a really good reason for this:  My birthday is early November.  Since I am now heading to the late-thirties (how did that happen again???) I feel like I deserve and owe it to myself to be proactive on how aging is impacting me.
If you want to see my wrinkles, spots, and blemishes kick it over to Instagram anytime.  But if you want to see me looking pretty good?  Run into me today at the consignment sale, Walmart, or tomorrow at the baby shower.  I will have my A game going!
I don't like thick, heavy make up.  I like this:
But I'm not that complexion.  I'm pasty white with a side of extra white.  I am a couple shades short of glowing in the dark.  BUT I can say I'm a huge fan of the natural make up trends:  foundation that isn't pancake, blush that looks like real flush, and natural lip color.  Also, friends, I'm so sick of your thick half drawn eyebrows.  That isn't flattering at all and you look like you are the breeding ground for butterflies.  Please reconsider those.  I know people say they make you look young but most people I see rocking them look like they should be rocking their grandchildren in rocking chairs.
I'm being harsh.  It happens.
When it comes to skin care…oh wait this is me:
I am not a model just a mama so there's your unedited photo.
I will be thirty-seven in a month-ish.  I don't spend gobs of cash on skin care but I can attest to a few things:
 Oil of Olay's Regenerist line.  I actually buy the Equate version because it works great.  It also saves me roughly $30.00.  I like to save money.
Cetaphil face wash is also a product I freaking adore.  I buy the Equate version of it too.
I actually prefer Maybelline make up.  It doesn't make me break out, it covers amazingly, and if you haven't tried Dream Matte Mousse then you need to.  I think it's safe to say our skin changes the way it accepts foundation through the years.  When I started off I was a Covergirl then I was strictly Clinique and now it's Maybelline or bust.
Water, water, water.  Drink it like it's
Sleep.  Most nights I go to bed before ten and wake up at 5:45 pretty refreshed and ready to go.  If I got less sleep I would look older, I just know it.
Exercise…you know this.  It's the secret weapon to having to have plastic surgery.
And I mentioned Lauren Conrad and my love for her design – I love this article regarding how exercise makes you pretty from her site.
Alright lovelies, I'm outta here to start my weekend!  I wish you all an amazing one.  Leave me your tips and faves for fall in the comments!
xo
Amanda