Big question today…
Do you meal plan?
And…
If you do not then how the hell do you survive?
Even when I was a young thang living in an apartment on my own I still meal planned.  No, not crazy stuff like three meals and two snacks – but always dinner.  Dinner was what mattered.
In those days I could easily whip up a Homestyle Bake and have my bestie over (or vise versa!)  Oh those were the days!  We could eat sodium and it never affected us.  If it wasn't that it was a trip to Taco Bell or if I was working I could have a reduced plate of Ahi Tuna steak with wasabi sauce, creamed potatoes, and roasted asparagus.  Slightly missing those fabulous meals right now.
But now I'm on the upper side of the mid thirties and I am way smarter than I used to be while taking nutrition classes (here is where I laugh and laugh and laugh some more!)
Now I plan meals for a couple kids and a couple adults.  Though, I like to cook I rarely want to cook during the week so when I plan I try really hard to plan easy peasy meals.
I also take into account the current situation of season – it's summer no matter what the equinox calendar says.  Where I am it's close to ninety degrees and though I do not live in the tropics the humidity is making me question that.
We have so many great resources for recipes and ideas these days.  You can click on any screen around you and find a plethora of ideas.  I also have a couple of those antique ideas referred to as cookbooks on hand.  Today I wanted to share with you some of my go to recipes from the web.  I won't  be listing out the recipe but there are links to take you straight to the source.
The easy family favorite is from Rachel Hollis.  I guess she is all the rage these days since her awesome little book Girl, Wash Your Face came out a few months ago.  She also is the operator of the lifestyle web address The Chic Site.  I like a few of her recipes but my entire family loves this recipe.
Why do the love it?  Doritos.  Why do I love it?  I hardly put any Doritos in and therefore it follows the nutrition plan I follow 90% of the time!  This meal does not require much heat in the kitchen (just stove top!) and it is extremely tasty and fast.  I make a large batch so we can enjoy it for about three days.  The other added bonus?  This is salad season since veggies and fruits are officially in season.
If you want something even easier then you should try our once a week staple. Here is where I share with you that we no longer have a grill.  The shock and awe is felt across the world as you read this.  Yes, our grill died officially a few weeks ago and we have yet to purchase a replacement.  Do I miss the grill?  You bet your biscuits.  But I can live because of my crock pot.  I use the crock pot to cook up a delicious Seasoned Pork Tenderloin from Smithfield once a week.
Every week I buy one of these tenderloins (pre-marinated) and a load of veggies.  The pork goes into the crock pot for eight hours and the veggies get prepped about thirty minutes before we have dinner.  I generally just cut up some zucchini, squash, and onion and saute it in a bit of olive oil then plate it all up.  Plates are always licked clean.
Burgers are amazing.  Yet there are days when even I say – holy crap burgers again?  My daughter uttered those words around Memorial Day.  We had literally had several meals at home and away that were based around the fabulous meal that I seriously could eat every single day (deconstructed!)  When you need a change from the bovine go for the fishy side of life.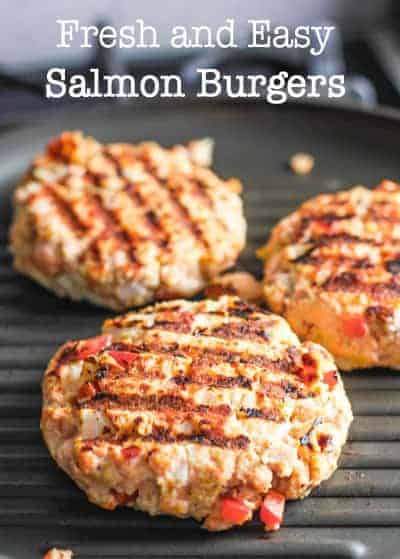 My whole crew loves some salmon patties and if you make them just right they can easily take over your burger night on the menu!  I also eat these deconstructed (meaning no bun).  And please don't forget the remoulade sauce!
So there are my three picks to share with you for a tasty summer dinner that will not raise the temperature in your kitchen.  I'm curious as to know what your go to's are for the summer season and hope you will share some ideas in the comments section of this post.
Happy eating!
Amanda