Well if you can stand it – another recap is here! I'm going to share this on Heather's link up so go there for some quality blog posts hehhehe.  I may also slide it on Biana's Monday link up too so go there as well if you have lots of time to burn on this Monday to push it forward.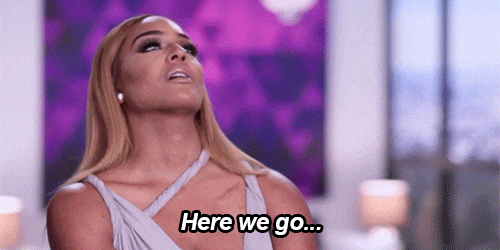 Friday was eighty degrees and just plain out gorgeous.  I had a total white girl morning by dropping my kids off at school, picking up the groceries, and going to Starbucks.  Yep…that's pretty damn vanilla unlike my drink of choice – Maple Pecan Latte.  When those are gone I will be numb.
I have no fabulousness to report for Friday and that is because THIS IS REAL LIFE.  Real life is often not too exciting and that is OK. Wait, wait, wait if you consider being in your pajamas at 5pm pretty fabulous then I'm about to rock your world with fabulousness.  Yes, I was in my pajamas at 5pm and I was on the couch watching lame Hallmark movies.  Why?  Because it was Friday…after 5…and I'm OLD!
How else should I spend the last Friday of 35?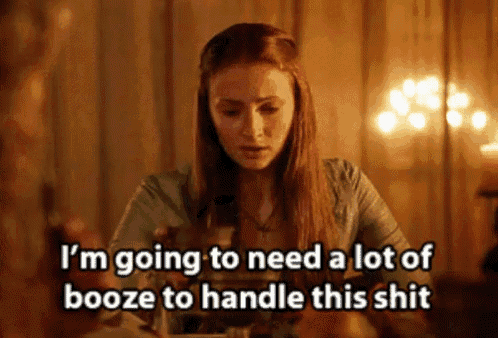 I did make burgers for the family (I opted for a salad.)  I failed to read the label on those burgers.  I broiled them and fixed them up and served them and my family about stroked from the fact I misread that they had hatch chili in them.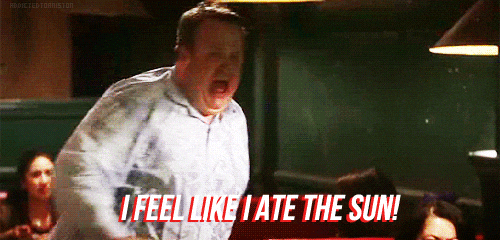 Ooops.
I'm the only member of my family who likes spicey stuff so you can imagine the little hell they were facing inside their mouths.  I have never seen people so eager to eat Gogurts after taking a bite of a burger.
Being the cool mom I am I said, "Well eat the Doritos."
Clearly my body was overtaken by aliens for me to be OK with that.
After everyone went to bed I found a show on Amazon to watch and I like it! Red Oaks – it's on season three now but I just found it so bring on season one!  I was giggling a lot.
And then Zzzzzz Zzzzz Zzzzz.
Saturday morning was rain and cold and grey and leaves and coffee and God save me…a McGriddle.  Yep, we piled up in the beast and headed to the drive thru in our pajamas.  Why?  Because it was my freakin' birthday weekend.
When we got home I was like – yes, I will get dressed now.  I did make up and clothing and was a functional member of society.
My husband said he was taking me out for my birthday.  And then he mentioned that we should go get a dishwasher.  We may have purchased a new microwave on his birthday but really y'all I'm not trying to get more appliances right now.  So naturally I was looking at him a bit sideways.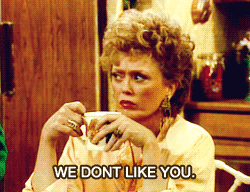 Look for his birthday we stumbled upon a great deal on a microwave.  He wanted to be fair and get another kitchen appliance for my birthday.  I digressed.  I may regret that later.
Meanwhile the mailman came by.
Yeah nothing like that.  But he brought a package.  (Does this sound like a movie you will never admit to having watched in college?) That package was a box of freaking happiness from my "big sis" Andrea.  I swear that girl!!!!!  (Total Southerner coming out in me now.)
Saturday was also my mom's birthday.  She came by and got her card and giftcard (Homegoods seemed fitting since she just moved.)
Saturday evening my husband took me out for Italian.  I don't eat Italian (I drink Italian!)  I opted for a lettuce wedge and lobster bisque.  It was OK.
We then took it to Target where I nearly bought two Christmas gifts but stopped short of the check out.  We wrapped up the night with a Starbucks stop.  When I got home I watched two more episodes of Red Oaks er whatever it is.  Then I fell asleep.
Then I woke up at 5:30AM on Sunday.  Thanks daylight savings time.
We headed to Ashe County for my mom's birthday.  She wanted breakfast at Shatley Springs so we did that up.  I hadn't been there in decades (as if I'm old enough to say that…) and was pleasantly surprised by how good it was.  I haven't ate like that in a very long time.  I let the guard down and had too much country ham, biscuits, gravy, and eggs.  Seriously….it was a cardiac attack just smelling that place.
After breakfast….
We drove the Blue Ridge Parkway for a little while and then headed home.  But not before a Walmart stop and Kohl's trip.  I'm trying out ROC Deep Wrinkle treatments this month and Wally World has it cheaper than anywhere else.
Guys, when we got home I immediately changed into pajamas and parked it on the couch because it was cold, yucky, and I had ate artery killing foods.
Later I would get my fat ass up and do some housework and get the kids ready for a four day school week – every week in November is short.  Three four day weeks and then a two day week.
….After eating pizza and birthday cake.  I plan to never eat again after.
And that is a basic white girl's weekend.
Today I'm off work because it's Monday and it's my actual birthday.  If you are wondering what I'm into it is probably a lot of gym time, fifty gallon drums of water, and housework because I'm spectacular.
Tomorrow on the blog you can look forward to reading all about….Making your home inviting for Thanksgiving.
xoxo-
Amanda