Y'all I was an Aldi girl.
Then Pumpkin Palooza hit and time was NOT on my side.  So I decided to give Walmart Pick Up Grocery a shot.  Two words:  Life Saver.
I know most of you know how it works – you go online and pick out the groceries, you pick your time slot to pick them up, show up and get them loaded.  Easy!
Here is why I am now all about this service:
Meal Planning
I am a list maker, calendar crazed junkie.  I have always meal planned so this is nothing new.  Truthfully, making meals on the whim is not my game with two kids and a husband.  So what do I do?  Every Tuesday I make a meal plan for the next week.  I take into account everything I have on hand and then start my planning.  It takes me about thirty minutes and POOF! we're finished.
After I plan the meals I now know exactly what I need from the store for dinners.  I plan lunches and breakfasts too so I also know what we need in those departments as well.
Website Ease
Walmart really makes it easy to pick your groceries.  I use the search bar and just type in what I need and WAM BAM it pops up and I click to add it to my cart.  I have also found that the options they give me are endless and prices are great.  Thanks Walmart.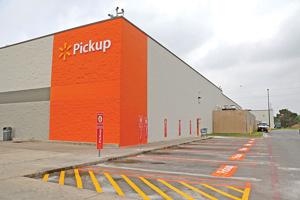 Scheduling
I pick my groceries up on Friday after work.  Due to the fact that my local Walmart does not offer this service I'm very lucky that Walmart Market, just a few miles from my son's preschool, does offer it.  I pick the one hour window that best fits my schedule.  Did I say this is easy?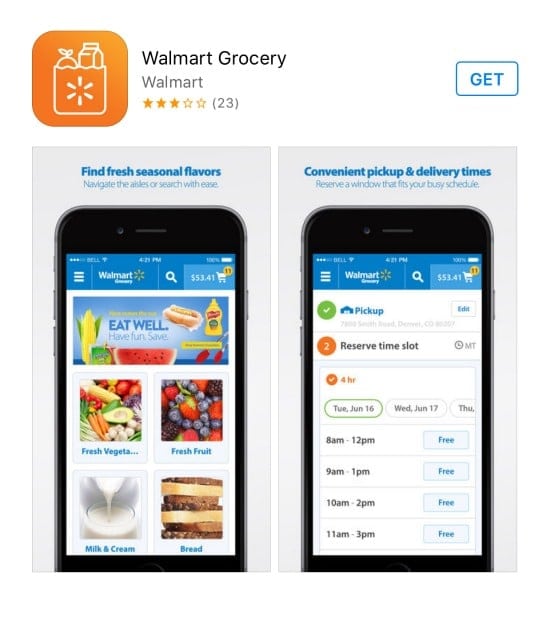 The App
Walmart Grocery has it's very own app.  This is a MAJOR plus.  When you are headed to your Walmart of choice to pick up your groceries you just let them know you're on your way by clicking the button that tells them.  They can track you coming to the store so that when you pull in they are walking out the door with the cart of your groceries.  Yes – no wait time!
Savings Catcher
The first time I used the service I was totally bummed – no receipt from the store in my hand meant no Savings Catcher savings.  WRONG!  In your email is your receipt – at the bottom is the TC# you can open up the Savings Catcher on the Walmart app and put in the TC# with the date of your pick up and guess what – it will process your receipt for savings!
Refer
Friends, you can get $10 off your first order with a code on the site and then after you place your order, pick it up, they then give you a code to share.  When a friend uses your code you BOTH get another $10 off your next order.
Savings add up
I don't know what your family dynamic is like but for me, with two kids, I hate the idea of having to take my constantly arguing offspring to the store.  This eliminates the screaming and fighting in the store.
This online ordering also helps eliminate impulse buys.  Since I'm not actually going in the mecca of box stores I'm not tempted to walk through the work out apparel, make up, holiday department and therefore I'm not spending money on crap I do not need and was NOT on the list!
So friends, let's just be honest – the hectic time of year is upon us.  Do something easy peasy when it comes to purchasing food for yourself, your family, your get togethers.  This is the best way to shop and not have to stand in line for way too long!
Use this code for added savings on your trial run of Walmart Pick Up Grocery and you may also get a little gift from Walmart if it's your first trip!
RKGXWNPX
Thanks and happy sanity saving!
xo-
Amanda