A quick one for you this Friday.  I'm (really) having a yard sale today so ya know…gotta get on that!
Last Saturday we went to the NC Pumpkin Festival in Elkin.  The festival is relatively small and took about 45 minutes to walk through.  My little guy was so excited to see the MASSIVE fruit as it was weighed!  The winning pumpkin was around 747 pounds!  We didn't stick around for the watermelon weigh in.
Last weekend also brought something I will be blogging about later.  It led to a very long afternoon and a fresh  new haircut for my girl!  She can rock this fun cut so well and she looks absolutely adorable in it!  I wish I had snapped a picture of her smile after the hairdresser was finished up – it was awesome!
I hate school fundraisers.  Seriously – ain't nobody got time for overpriced cookie dough and gift wrap.  This year my child sold that overpriced crap (we didn't sell, really) but the company had an online shop too.  I decided (mom guilt) to check it out and stumbled upon these adorable finds!  The "mason jar" measuring cups stack up to look like a ceramic jar and the measuring spoons are just too cute and perfect in my kitchen.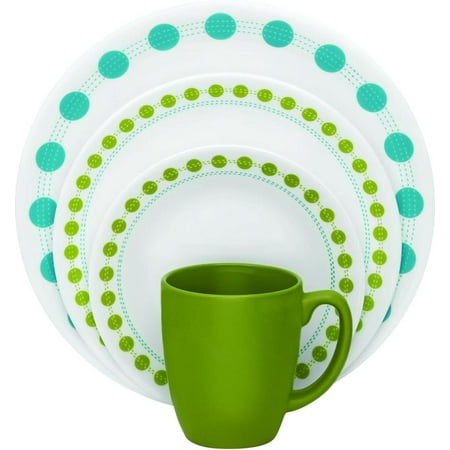 Also, this week I ended up getting new dishes.  Our old ones were too heavy, got too hot, and just not functional for us anymore.  So what did I do?  I did the tried and true!  Corelle Ware!  This pattern just stole my heart – a little retro and a lot of fun. PLUS, it matches mi cocina!
Gross picture, right?  I got some dirt playing time this week as I removed the Impatiens from the spring and summer from my front garden bed and replaced them with pansies.  All week we had temperatures around ninety – I loved it so much!
Yes, friends, I held on tight to summer this first full week of fall.  But I had to let that grip slip since fall is coming to North Carolina this weekend.  Temperatures will be dropping to the high 40's for our mornings.  I can deal with fall I just cannot do winter!
That is one TIRED mutha.  Oh wait…that's me.  I got my hair did last week and I got bangs, a few more layers, and my color updated – it's great!  It's blonde (but that's all natural…shh.)
This week on the blog –
Fall Clean Out! My tips and tricks.  Y'all know how I make my lettuce – so here are some of my tips to get your home all ready for all things pumpkin spice/hosting/for real clean!
Easy Chinese Dinner!  This one is worth your time when you are short on time!
What's Up? The monthly link up!
Mug Swap   The most incredible mug ever is mine now!  Andrea, thank you!
This weekend –
I am looking forward to a hot date with my bestie tonight!  I think we're Boone bound.
Cooler weather <gasp> yes I'm going to welcome the season appropriate weather and even make some yummy fall food.  Last night I tried my hand at a crockpot pumpkin french toast.  If it's good you know I will share the recipe!
Finishing up the yard sale!  Woot woot!
Football at Lori's!  I will be the lone Patriot in a house of Panthers.
Yoga – back at it and boy am I glad.  (Post later!)
Wishing all of you a wonderful start to October 2017!  I shall see ya next week, lovelies!
xoxo-
Amanda