With fall literally a few days away I decided it was time for this post.  Now before you sigh and say, "Not another pumpkin spice post…" let me tell you this isn't all pumpkin spice but a lot of things that are NICE!  Here we go…
My favorite party of the year is coming up in October!  We started hosting our annual pumpkin carving party in October.  Last year was our first one and it was super fun.  This year we're going to change things up a bit and I'm very excited to see how this party falls into place.
Instead of having a main dish with friends bringing sides we're going to have hot and heavy apps on the table along with desserts.  I want to keep the theme of fall all together so I'm looking at a few recipes to be the centerpieces.  Tell me your thoughts on these fabulous finds!
Great Pumpkin Crunch Cake
We provide pumpkins for everyone to carve and or paint.  Last year we had endless laughs at how so many people took to Pinterest to find cool ideas.  Of course there were several Pinterest fails but that makes the even so much more fun!
This is such a fun event to host and the memories are super fun too!  The food is good, the activity is a hoot, but the best part is just having your friends over to sit around and chat with!  I cannot wait!
Next up…
While we have not been pumpkin spice crazy in my house we have enjoyed a few pumpkin spice treats including:
My husband picked these up at Target on Sunday and dare I say they didn't last until Monday!  They were yummy.
I prefer this pumpkin spice coffee from Target.  At $7.99 a box it's a total score!
I make these gems on the regular – Hungry Girl's 2 Ingredient Muffins!  All you need is a can of pumpkin and a mix – just put the two together in a bowl, mix, makes 12 muffins!  Delicious!
Starbucks has a fabulous pumpkin cream cheese muffin and they have a lower calorie content than Dunkin' Donuts.  These guys are just fabulous!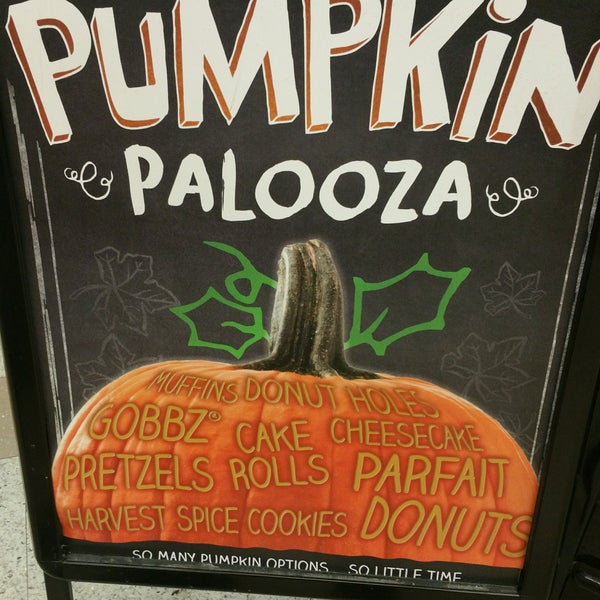 If you follow us on social media you know we are a Sheetz family – LOL!  We keep that place in business!  I had to try their pumpkin donut on a cheat day and it was amazing!  I also enjoyed a Harvest Cookie a couple weeks ago and it is now my favorite bad girl temptation!
Moving along…
I have my fall decor out and I was totally excited to get a couple small pie pumpkins for decoration as well.  When you pull in the driveway you are greeted with my half size whiskey barrel filled with black eyed susans, our little mum pot, and the two cutest pumpkins!
Buying pumpkins for the party can be expensive but I love having them around the house.  A touch of orange is just the key to happiness!
Other types of pumpkin….
Though I could never be "OK" with painting a room orange I love to accent with it.  Let's face it orange is just a happy color and when you see pops of it you cannot help but smile!  (Plus it reminds me of the sunshine of summer!)
I have a hair appointment coming up and I found this:  "Pumpkin Spice Hair" – it's adorable but I have too much glitter to go dark like that.  However, if I weren't grey at 35 I would do this for sure!
Pumpkin nails?  I love this rich color!
Ahhh all this fall love has me ready to get my flannel out!  I hope you guys have a terrific day!  Go see my girl Andrea for more pumpkin love!
xo-
Amanda