Back to posting what I love the most.  I'm starting this up as a regular addtion to CCK.  And no, that isn't my house but it is one that I absolutely adore!
It is that time of year!  Time for vacations, pool days, boat drinks, and home improvement.  Did you know most home improvements take place in the spring and fall?  They do and it makes perfect sense!  The spring is generally cooler and after the winter we are ready for changes to our little nests.  In the fall we begin the transition into new schedules and start thinking about improvements for the impending holiday season.
Today I wanted to entertain a few home update ideas for you for my favorite season.  These are little budget friendly ideas that can make your home increase in value and your face wear a pretty little smile as you enjoy the fruits of your labor.
I am denoting cost by a dollar sign key:
$ – inexpensive
$$ – Moderately expensive
$$$- Most Expensive
The number one update:  Your front door $-$$$
Most of us walk through that door so many times a day we rarely give it much thought.  Doors are made to be tough but they can also age.  Scatches, dents, and dings come with time and after a certain period of time it is time to do something about that door!
There are a few options when it comes to updated your door.
You can opt to paint it a new color.  I took a beige door and painted it a fun Parakeet Pete (green blue) shade.  This made our backdoor pop against the white siding.  Painting is the cheapest solution to changing your door.
The other option is to purchase a new door.  In case you weren't aware new front doors can be very pricey.  The perks to this are that you needn't worry about spending any time painting the door yourself as you can order a variety of colors.  This also allows you to give your entry a totally new look.
There is always the idea of reclaiming an old door.  This can be very tricky.  If you are wanting to bring in an old door you may not have the proper dimensions to appropriately fit the space.  Also, with reclaiming you have to assess whether it will serve your needs.  Make sure it is sturdy, heavy, and can do what it needs to do – keep those that do not belong out!
Add chair rail $$
An easy way to revamp a bathroom, hallway, dining area, or kitchen is adding in chair railing.  This timeless home accent can make any space look classy and chic.  You can purchase chair railing at any large construction store.  As mentioned before if you like to reclaim old home pieces this is a great way to do it!  Many older homes had chair railing in nearly all the rooms.  Make sure to look at antique and vintage stores for pieces for your smaller square footage areas.
New light fixtures $-$$$
Like our front door we rarely notice our light fixtures after a certain amount of time.  If you have been utilizing the old globe style ceiling fixtures maybe this is the summer you get recessed or can lights installed in your living room!  Ceiling fans with lights are great but it could be time to update to a fresh look.
If you are not ready to call the electrician consider updating your lamps.  If you are crafty you can do some amazing crafting to update your lamps – from some paint to mod podge to updating lamp shades you can transform the illuminating objects in your home.
Wallpaper $-$$
Who would have ever thought I would include wallpaper into a blog post and in a positive light at that?  Wallpaper has returned to the trend list and big, bold prints and geometric designs are all the rage.  I do not advise you to go crazy with wallpaper but I do encourage you to try it out in one of your smaller spaces.
The days of wallpaper glue and putty knives are a thing of the past.  You can now buy small rolls of self adhesive paper (see Waverly) that are perfect for your small spaces.  Why not try a little accent of wallpaper in your study, half bath, or kid's room?
Invest in good blinds and shades $-$$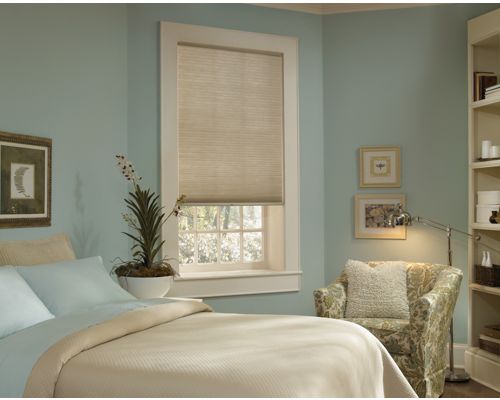 If you have mini blinds in your home please remove them.  Blinds and shades serve dual purpose in your home the first is privacy and the second is helping reduce the electric bill.  In the summer the hot sunshine will pour into your home and to block it (to keep costs down) you need good blinds and shades.
Next week I will have some more tips from my arsenal on updating your home on a budget.  I hope you will come back to visit!
Amanda