Last Thursday was a tee total day if you get my vibe.  Y'all my daughter decided to show her tail, my boy was breaking the sound barrier, and I needed a break!  Luckily, my husband took the kiddos for a couple hours and I slipped off to my favorite place.  OK one of my favorite places…Old Navy.
They had a great sale going on and I racked up some great pieces.  I'm looking forward to sharing them here on the blog over the course of the next few Wednesdays.  This week I wanted to show you my new floral top that just happened to go great with date night last weekend.
Florals are the rage and this girl has some issues with florals.  Growing up they reminded me of Mama off of Mama's Family so I steered clear of them.  I clearly remember going shopping with my mom and her friend Deb.  My mom would pick up a floral piece and Deb would respond, "That looks like you have been rolling around in a flower bed."
Well..I guess I have been rolling around in a flower bed!
Top: Old Navy $24.95
Jeans : Loft
Ballet flats:  Old Navy $19.98
Currently I am loving these nail shades from ORLY!  I picked this trio up at Kohl's last week.  My current favorite is the middle shade Big City Dreaming.  (I am NOT big city dreaming but the color is fabulous!)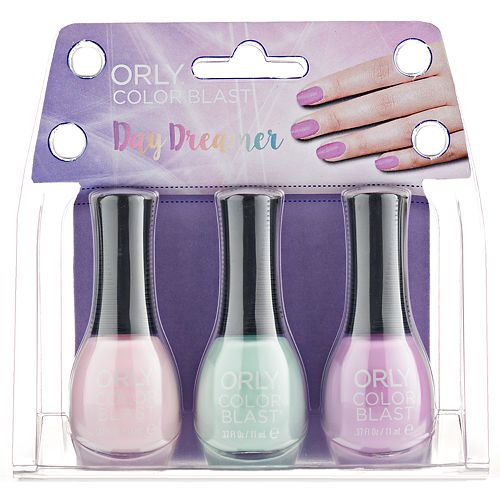 Nail envy? We had to take our son to the ER last Thursday.  He's OK.  The registration clerk had on a similar nail polish color (to the green) and I adored it!I wish I could keep my nails pretty all week long but my line of work + my love for playing in dirt = Bad for pretty nails on the constant!
***
Challenge time:  Healthy Girls you are currently:
Drinking LOADS of water a long with acceptable teas and coffees with smart additives if you need them.
You're walking your little legs off!
You gave up noodles for a while and are trying zoodles if you can.
One glass of red wine a night (4oz)
You're rocking your thirty second plank twice a day!
And now you are going to get that sleep in!  Make your goal a minimum of 7.5 hours per night.  Start psyching yourself out to get on in the beddy by in enough time to get a work day's worth of sleep.  Good sleep leads to maintanace of healthy body systems, and keeping yourself at a healthy weight!
xoxo-
Amanda
Linked up with:
The Blended Blog     Cappuccino & Fashion  Who's Wearing What Wednesday