ROLL CALL!  Who is rocking this challenge thus far?  Are you taking in your non sugary drinks and getting your steps up there?  I hope so!  I told you this is easy.
Today I want to spend a hot second on your next challenge.  Of course you will keep up your water/hot tea/black coffee deal and your stepping but we really need to add something in.  First thing:  You get to have a glass of wine tonight.  Second:  Vodka and water is OK.
I prefer you stay away from alcohol and if you want to personally add that to your challenge this month then listen to me cheer your name!  However, I know many of you like your grown up beverages.  So in honor of Friday I'm letting you know a glass of wine (RED, no white) or a vodka and water (ONE) is ok.
To work off that glass of wine plan on walking for 30 minutes at a 3 mile per hour pace.
To work off that Vodka do the same.
You're welcome.
The trade off is this:  Steer clear of pasta.  Zoodle your heart out but no pasta. 
If you had planned to eat spaghetti, lasagna, Olive Garden, Carraba's, or that sweet little Italian place in your 'hood then go but don't eat the pasta.  Get a salad with chicken (my favorite is Caesar).
Part of our eating this month is going to be cutting out the junk and sorry guys pasta is junk.  If you're Italian and I have hurt your feelings, I'm sorry.  But we can add in some pasta at a later date.  Right now, no.
For the love of God….I gave you an alcohol pass.
No pasta, lots of water, a glass of red or a vodka water, and walk as much as you humanly can.
****
My week in review:
Fat Tuesday:
Glad to get that out there LOL!
Let me throw these out there from this week:
My occupation is residential cleaning.  I started my own business so I could have flexibility with my kiddos.  On Monday I started a little two week deal where I share a few tips for spring cleaning and next week cleaning when you have seasonal allergies!
Tuesday I shared a true favorite down here of the Mason Dixon.  I made it "smart" so you can enjoy it and not feel too guilty!
We kicked off March on Wednesday with the book club link up.  I also started up a new revamped Healthy Girl Challenge.  If you want a month to focus on making better health choices – every day – then join in!  Currently, there are daily posts to help you out.  As we progress they will go to three days a week!  If you need some motivation I pray I can be that motivator you have been looking for!
Challenges this week:
*Drinking only water, black coffee, and hot tea.  We're giving our bodies a break from sugar, fat, and man made sugars.
*Walk, walk, walk.  If you wear a Fitbit meet your goal!  Go over it a thousand or two thousand steps.  Don't do Fitbit or Garmin?  OK!  Set aside 20-30 minutes to do nothing but walk.  Even if consists of you texting and Snap Chatting the whole time, go for it.  We're showing our legs we appreciate them and also our hearts and brains.
*Today, as you may have read, we aren't eating any pasta.  It's just sugar.  Sorry.  But you can have zoodles.  You can also get the stuff on the noodles in your tummy – cheese/meatballs/sauce/shrimp/chicken/etc.  See you aren't giving up anything but the crap that fills you up too quickly and then bloats you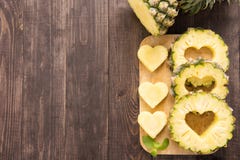 .
Y'all know I love a pineapple…..so –
Why don't you head over to Andrea's blog to check us out together now? I love that lady like none other.  She is my most favorite bloggy sister and so full of kindness and joy.  I swear she's contagious!  Andrea is the fashionista of Indiana and probably the best baker in the Midwest (scoot over Ree Drummond).
Happy Weekend!!!
xoxoxo
Amanda
Linked up with Katie & Amanda.